As published in a recent post, we have initiated a Peer Group of leading European companies which share our view that Best Practices with respect to scaling up validated concepts (successfully emerging from the "Fuzzy Front End") to business impact need to be in place to sustainably increase overall corporate innovation performance.
It has become obvious that Scaling-Up really seems to be an issue across a broad variety of industries. In the Peer Group we find companies from
Electronics / HealthTech
Telecommunications
Automotive / Mechatronics
Financial Services
Cosmetics
Oil and Energy
Chemicals / Materials
On September 6, a first workshop took place at Swisscom's Pirates Hub in Zurich. Penny Schiffer, Head of Swisscom Startup Initiatives, and her team hosted a group of 15 senior managers from the joining companies and us.
The goals of this workshop were to find a common language on the issue at hand, identify levers for improvement and assess where the individual companies stand.
We got confirmation that our concept of Areas of Tension (see exhibit 1) is a good starting point for structuring the thinking process. This concept breaks down the inherent conflict between the scale-up venture and the core organization into a set of factors. By doing so, this tension can systematically be mitigated through a defined approach in which the "Venture Management System" is gradually shifted to a "Business Management System" as the venture grows.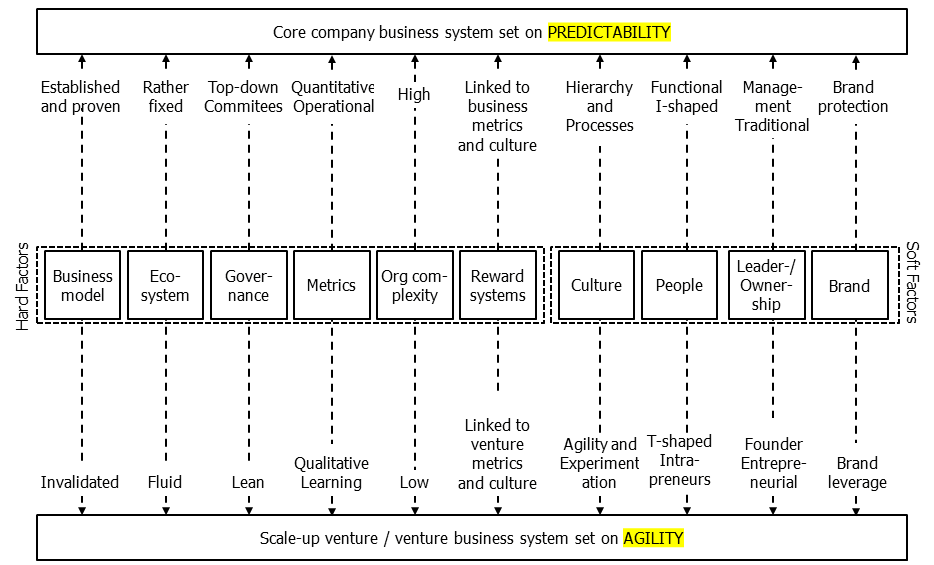 Exhibit 1: Our Areas of Tension concept breaks down the inherent conflict between scale-up venture and core organization into particular factors.
We asked the participants to assess the relative importance of these Areas of Tension for the Scaling-Up success (see exhibit 2). In the view of the Peer Group, the soft factors are even more critical than the hard factors.
Exhibit 2: Survey results "What are the most significant factors to Scaling-Up success?"
This practitioner's assessment correlates well with various published research findings on success factors for corporate innovation in general. These indicate that getting the soft factors right can be regarded as more fundamental to success in driving radical or disruptive innovations in corporate settings than the hard factors.
In a second survey, we asked the participants to assess their companies' levels of excellence with respect to handling the Areas of Tension (see exhibit 3).
Exhibit 3: Survey results "How do you assess your company's excellence in managing the Areas of Tension?"
The results show that the companies see their average score across the various Areas of Tension at level 2 on a scale from 0 to 5. Keeping in mind that in this Peer Group are some world-class companies, we think that it becomes apparent that the Scaling-Up is a – if not THE – major issue for increasing innovation impact in established organizations.
The results also clearly reflect the need on the part of the participating companies to tackle the Scaling-Up problem systematically and comprehensively – which has been defined as major ambition of our started Peer Group.
For the time being, we can conclude that the Peer Group's scope has proven to be on the right track. In the time to come we will be putting the soft, interactional and behavioral aspects of the Scaling-Up transition in the center of our considerations.
More to come soon!
Are you an innovation practitioner from a leading European company and interested in joining our Scaling-Up Peer Group? Please get in contact with us (Dr. Ralph-Christian Ohr or Frank Mattes).